New Prime Minister of Poland appointed by Law and Justice Party has "Jewish roots"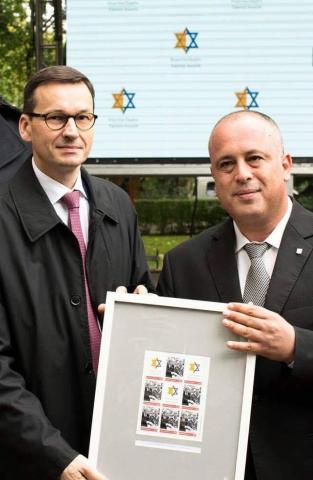 By Carolyn Yeager
THE SUCCESSOR TO PM BEATA SZYDLO,  close associate of Jaroslaw Kaczynski, leader of the ruling national-conservative, Christian-democratic PiS party in Poland, has been identified as a half-Jew. 
Right: Standing on the left at the Warsaw Zoo on Sept. 18, 2017,  Mateusz Morawiecki holds a document honoring rescuers of Polish Jewry . (Photo courtesy of From the Depths)
Mateusz Morawiecki was Finance Minister and a former bank chairman in the Santander Group. He was not even a member of Kaczynski's party two years ago, but joined the government as minister for economic development in 2015. His Jewish roots were known in Poland since he spoke about it earlier this year at a ceremony at the Warsaw Zoo.
He remembered two aunts who he said were Jews, at least one of which he was related to by blood (this latter according to a Jewish organizer of the Zoo event). Such an aunt has to be a sister of one's father or mother, making Morawiecki half-Jewish, probably through his mother. One of these aunts now lives in Israel, Morawiecki said, because she escaped eastward into Russian-held territories. This is where so many Polish Jews went who were later said to to have been murdered by the 'Nazis' in Auschwitz and elsewhere.

Morawiecki defends that 3 million myth as do all Poles, which makes it that 90% of Polish Jews were killed, whereas in reality they were welcomed into the Soviet Union, a fact which has been covered up in order to defend the imaginary number of 3 million Jewish-Polish deaths.
Morawiecki is only one of thousands or tens of thousands of Poles who are considered white Polish Christians but who have a great deal of Jewish blood. Throughout its history, the Polish people needed the help of the more intelligent Jews or Germans to enable them to find some success in competitive environments. Selecting Morawiecki for the finance and economy posts, and now for Prime Minister, knowing his Jewish background and sympathies, is an example of that.
I want to point out to people like Franklyn Rykaert and Guillaume Durocher that their enthusiastic support for the claim that Poland and Russia are so intrinsic a part of Europe can only be upheld by ignoring so many facts of history. This idea comes from the White Nationalist belief that skin color is all important – that all people who appear white in color are of equal, or close to equal, value; and from the European Union that wants to include as many people as possible. White Nationalists like to repeat that Poles are very antisemitic, yet Morawiecki says dozens of Christian-Catholic Poles "risked their lives to hide" his Jewish Aunt Irena. Multiply that with many, many other similar stories, and a different picture emerges. Poland has more "Righteous [Gentiles] Among the Nations" recognized by Israel than any other nation - a total of 6,706.