Adolf Hitler on National Socialism and World Relations in 1937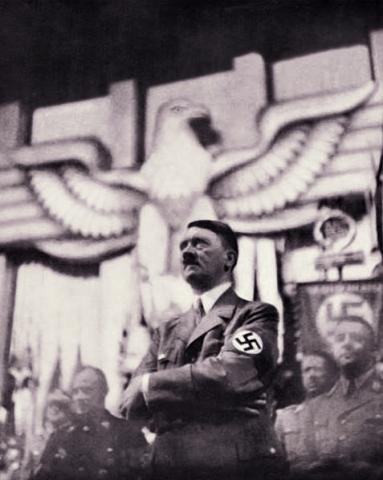 Adolf Hitler speaks to the Reichstag on January 30, 1937, noting that Germany was once again an equal among European nations, and had regained its strength by following his National Socialist programme .
---
By Carolyn Yeager
AS WE WATCH OUR NATIONS SUCCUMB to multiculturalism, globalism, rioting and unbridgeable racial divisions that threaten our peace and stymie our search for solutions, Adolf Hitler would tell us that we have broken the first law of Nature which is to preserve the race, and are thus reaping Nature's promised punishment.
No matter what subject Hitler was speaking on, or what the occasion, he seldom failed to include reminders of the necesssity to respect the separation of the races and nations. He delivered an important speech in the German Reichstag on January 30, 1937 as Führer and Chancellor. It was published under the title "On National Socialism and World Relations." In reading it for the first time at Archive.org, I copied passages that struck me as particularly meaningful, and which powerfully express the unwavering essence of Hitler's idea. They are the following:
"The main plank in the National Socialist programme is to abolish the liberalistic concept of the individual and the Marxist concept of humanity and to substitute therefore the folk community, rooted in the soil and bound together by the bond of its common blood. A very simple statement; but it involves a principle that has tremendous consequences." (P 10)
This very clear statement rules out that Adolf Hitler was any kind of a universalist when it comes to so-called white people and that he would not approve of the European Union as it has been set up. At the time he said this (1937) he had not visualized a war that would turn Germany into the occupier of large portions of Europe. He was only visualizing German people being brought home into an expanded German Reich.
"[…] of all the tasks which we have to face, the noblest and most sacred for mankind is that each racial species must preserve the purity of the blood which God has given it." (P 10)
This shows that Hitler saw his revolution as an internal, German event, not including all of Europe at all. His position was that others would show interest in it for themselves if it were successful in Germany.
"...one error that cannot be remedied once men have made it … failure to recognize the importance of conserving the blood and the race free from intermixture …
It is not for men to discuss the question of why Providence created different races, but rather to recognize the fact that it punishes those who disregard its work of creation." (P 10)
Hitler sees it as a law of Nature rather than as an idea of men of which the pros and cons can be discussed. It is not up for discussion because it is an iron law, the breaking of which contains the punishment within itself.
"It will prevent the Jewish people from intruding themselves among all the other nations as elements of internal disruption, under the mask of honest world citizens, and thus gaining power over these nations." (P 11)
Jews are the greatest source of disruption of the unity of a people, as proven by the rejuvenation of the German nation during the past four years since 1933.
"The people—the race—is the primary thing. Party, State, Army, the national economic structure, Justice, etc, all these are only secondary and accidental. They are only the means to the end and the end is the preservation of this nation."
"It is absolutely necessary that this principle should be practically recognized; for that is the only way in which men can be saved from becoming the victims of a devitalized set of dogmas in a matter where dogmas are entirely out of place." (P 16)
Think about this. A nation is not an Idea, but a living, breathing body of folk bound by land, language and ancestry.
"For the folk-community does not exist on the fictitious value of money but on the results of productive labor, which is what gives money its value.
This production, and not a bank or gold reserve, is the first cover for a currency. And if I increase production, I increase the real income of my fellow-citizens. And if I reduce production, I reduce that income, no matter what wages are paid out." (P 23)
The higher the ratio of citizens who are incapable of productive labor, the poorer a nation will be.
The whole body of our German education, including the press, the theatre, the cinema and literature, is being controlled and shaped today by men and women of our own race. Some time ago one often heard it said that if Jewry were expelled from these institutions they would collapse or become deserted. And now what has happened? In all those branches cultural and artistic activities are flourishing. Our films are better than ever before and our theatrical productions today in our leading theatres stand supreme and alone in comparison with the rest of the world. Our press has become a powerful instrument to help our people in bringing their innate faculties to self-expression and assertion, and by so doing it strengthens the nation. German science is active and is producing results which will one day bear testimony to the creative and constructive will of this epoch. (P 26)
The Third Reich did indeed prove that Jews are not better than Gentiles at certain tasks, and that they are certainly not essential for competing internationally.
"Mr. Eden declares that under no circumstances does the British Government wish to see Europe torn into two halves." […]
"It is to be regretted that the British Government did not adopt its present attitude at an earlier date, … for then the Treaty of Versailles would not have been entered into. This Treaty brought in the first division of Europe, namely a division of the nations into victors on the one side and vanquished on the other, the latter nations being outlawed. Through this division of Europe nobody suffered more than the German people. That this division was wiped out, so far as concerns Germany, is essentially due to the National Socialist Revolution and this brings some credit to myself." (P 34)
Hitler's first task was to undo the terrible and unfair damage of the Versailles Treaty which was forced upon the German people in 1919. He rightly takes credit for that accomplishment in the first years of his chancellorship, while also pointing out Britain's hypocrisy since it conducted a starvation naval blockade against Germany after the signing of the Armistice, and even continuing after the signing of the Versailles Treaty. Hundreds of thousands of German women, children and infants suffered needlessly and died.

"The teaching of Bolshevism is that there must be a world revolution, which would mean world-destruction. […] As far as Germany is concerned, let there be no doubts on the following points:—
We look on Bolshevism as a world peril for which there must be no toleration.

We use every means in our power to keep this peril away from our people.

And we are trying to make the German people immune to this peril as far as possible." (P 35)
Germany, because of its central location in Europe and its wealth and competence, was a particularly desirable target of the Bolsheviks.
"I should like to state that, complete German sovereignty and equality having now been restored, Germany will never sign a treaty which is in any way incompatible with her honour; with the honour of the nation and of the Government which represents it; or which otherwise is incompatible with Germany's vital interest and therefore in the long run cannot be kept.
I believe that this statement will be understood by all." (P 42)
Indeed, Hitler was not willing to sign a treaty of unconditional surrender in 1944-45 and no such treaty was ever signed by a German Government until the Two Plus Four Agreement was signed in 1990 by the West and East occupation governments.