Challenge to new holocaust prof – first do what no one has ever done: Prove the six million!
By Carolyn Yeager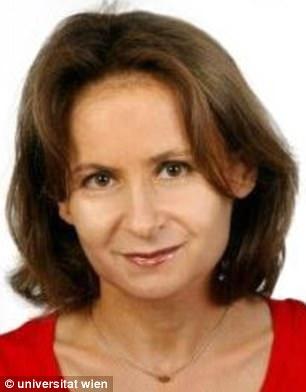 ISN'T IT TIME TO EITHER PUT UP OR SHUT UP? If historians and the media are going to keep throwing around the 6,000,000 number, shouldn't they have presented some proof for it by now? Instead, the 'proof' marker has gone in the other direction – against anything close to such a number.
---
Right: Sybille Steinbacher has been appointed by Goethe University and the Fritz Bauer Institute in Frankfurt to Germany's first endowed chair for Holocaust Studies,
---
Not only are there way too many survivors collecting compensation, and too high a Jewish population too soon after the war, but there's the research that uncovered hundreds of newspaper articles telling of exactly 6 million Jews being at risk of death and starvation in Europe and Russia, going all the way back to 1897 ! This is highly compromising material that our centers of higher learning, i.e. academia, completely ignore. And isn't it shameful that our premier European institutions claiming to represent scholarship of the highest order collude in perpetuating a hoax in order to protect avaricious Jews! If these universities and research institutes that are funded to the max by public money (taxpayer money) cannot hire historians of the 'Holocaust' who are able to prove even one of the three main pillars of said 'Holocaust' narrative, then the question needs to be asked, Why not, and Why are Germans funding them?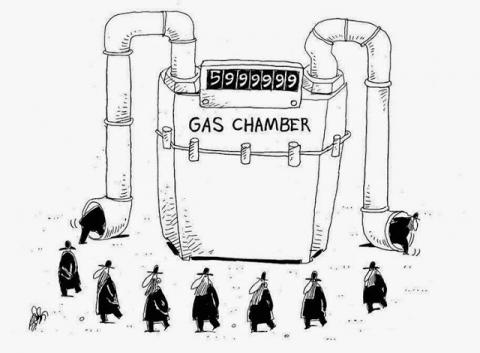 This cartoon is as good an explanation as any that's been provided for the number of six million "exterminated" Jews.
---
The newly created professorship chair Sybille Steinbacher is taking up is supported with grants of close to €464,000 euros a year, or $520,000 US dollars, for a total sum of well over €500,000 from federal state funds for the professorship and the institute in future. This is big money – and what will be gained from it? Apparently, only what all the billions that have already been spent by Germans since the end of WWII was meant to do – relieve the guilt of the Germans which their own postwar government has piled on their heads.
Boris Rhein, Hessen's Minister for Science, announced: "We are very happy … This is a milestone on the route to a better understanding of Nazi crimes and the history of their impact up to the present day."
Professor Birgitta Wolff, President of the University: "Goethe University Frankfurt is particularly committed, not least due to its own chequered history, to the intellectual reappraisal of the Holocaust. "
Jutta Ebeling, Chairwoman of the Foundation Board of the Fritz Bauer Institute: "Sybille Steinbacher … [will] combine the scientific investigation of Nazi crimes with tremendous sensitivity towards the subject's significance in present times."
The usual empty words. Will Steinbacher approach the subject with an open mind? No, because guilt and innocence have long been decided by her and by Germany's academic world, without a real investigation. She is the author of two books on the subject, both of which started as school dissertations. "Dachau: The Town and the Concentration Camp in the Third Reich" began as her master's thesis at LMU Munich. Her doctoral dissertation, which she wrote at Ruhr-Universität Bochum, became the book "Auschwitz: A History." Neither sounds too impressive as far as intellectual courage goes, although they received high reviews.

Her resume includes a fellowship at the United States Holocaust Memorial Museum. She was professor of Contemporary History/Comparative Dictatorship, Violence and Genocide Studies at the University of Vienna since 2010.

Steinbacher is going to be teaching classes to students. The faculty is to be located in the former IG Farben building, once the biggest office space in the world.  Berlin ceded the IG Farben building to the university in 1998 and it opened after extensive renovations in 2001. 
According to Alan Hall, holocaust specialist at the Daily Mail, her students will "learn of the methodology, demography, sociology, and psychology of the Nazi extermination programme which claimed six million Jewish lives." Will Steinbacher corroborate that? Well, reporter Hall also wrote in his Daily Mail article: "the I.G. Farben company … made the poison gas used to massacre Jews in their millions." It would be terribly irresponsible for Steinbacher to assert either of those things. But no scholars will correct the Daily Mail, or any other newspaper, so it is up to us to keep pushing and prodding, keep exposing, keep correcting.