FRG President pours shame on his countrymen while in Poland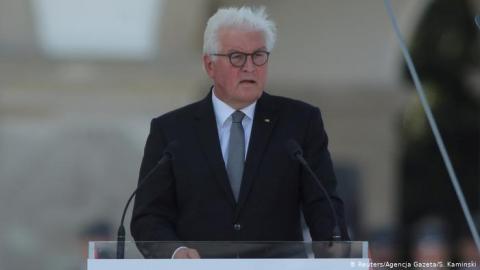 Federal Republic of Germany President Frank Walter Steinmeier speaks in Poland on September 1 on the 80th anniversary of the 1939 invasion of Poland by Reich forces after months of failed negotiation attempts.
---
By Carolyn Yeager
"MY COUNTRY UNLEASHED A HORRIFIC WAR THAT WOULD COST MORE THAN 50 MILLION PEOPLE — among them millions of Polish citizens — their lives. This war was a German crime," the president of the Federal Republic of Germany said in a speech before Polish President Andrzej Duda, and US Vice President Mike Pence, German Chancellor Angela Merkel, French Prime Minister Edouard Philippe as well as representatives of 30 other countries. No Russian representative was invited.
Shame, shame, shame! Disgusting behavior by the top representative of today's Germany.
Today, Sept. 1st, is election day in two eastern German states. They have the opportunity to reject this president and his words with their vote against his party and against Merkel's party. I only hope they are doing so as I write. The only meaningful vote against this "liberal democratic" madness is a vote for the AfD – the Alternative fuer Deutschland party.
*     *     *
See preliminary official election results here
I'll be discussing this election and other Germany matters with Sven Longshanks on the Wednesday 9-3 Daily Nationalist on Radio Aryan.
*     *     *
Steinmeier, a member of the left-wing Social Democratic Party, continued with his traitorous speech:
"I, along with [Merkel], want to tell all Poles today that we will not forget. We will not forget the wounds that Germans inflicted on Poland. We will not forget the suffering of Polish families and nor will we forget the courage of their resistance."
More anti-German quotes from Steinmeier's speech in Warsaw:
"I am well aware that my country bears a special responsibility for this Europe of ours."
"Because Germany - despite its history - was allowed to grow to new strength in Europe, we Germans must therefore do more for Europe."
"We must do more for the security of Europe. We must do more for Europe's prosperity. We must listen more for Europe's cohesion".
(translation: more money for Europe, more bailouts for poor European nations, guaranteeing our resources to hold Europe together)
Germans must oppose nationalism. Germans have every reason to be the happiest Europeans, but they should not feel they are the "better Europeans".
Only "the power of America's ideas and values, its foresight, its generosity" gave Europe a new chance after 1945.
I am so glad the hurricane moving toward Florida kept President Trump from attending this horrible and ridiculous gathering. It's bad enough that VP Pence paid tribute to the:
"courage and strength deep in the Polish character that no one could destroy. Poland proved itself a homeland of heroes."
"Today we remember the long roll-call of Polish heroes who fought for freedom."
But never will this fake 'German' post-war government pay any tribute whatsoever to their own German soldiers who died by the millions for their homeland in that war. Were they all criminals? What a scandal! Germany is no longer a homeland for Germans but if they can get rid of those who control it today, we know it can be again.
It requires ALL of us to cleanse our nations to make that change possible. A first step in Germany could be to kick out all the Poles who live there. More on that later.